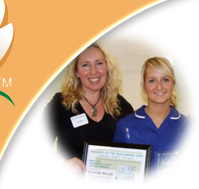 MIDWIFE OF THE YEAR 2009
The Midwife of the Year award for Lincoln was organised by the Lincoln branch of the National Childbirth Trust and it was my privilege to be the main sponsor for the 2009 competition. After contacting Jules King of the NCT (Lincoln) I was very pleased when she told me it had been agreed that

should be the main sponsor. If you are reading this you will probably already be of the opinion that Midwives in general, and the winners in particular, are a very hard working and dedicated breed of person. I also happen to believe that their pay does not reflect fully the responsibility that they bear. With that in mind I decided that the winning prize should reflect more fully the level of dedication and commitment that all the candidate's exhibit. After some thought I came up with a package that would see the winner receiving £500 worth of Complementary Therapies or Personal Training sessions.


The standard was, as always, very high but alas there can only ever be one winner. This year the honour went to Kayleigh Waugh who works in the Lincoln Maternity Unit. She won the

gift voucher for £500.00, a framed certificate, a bottle of champagne and a stunning trophy from Running Imp plus 2 months free membership to Curves Gym.

The second prize was awarded to Nicky Kirk who is a Community Midwife. She scooped a £100

voucher and a framed certificate as well as a bottle of wine and a £50.00 Mark Jeffs voucher. The standard was too high to decide on a third place so instead there were 3 commendations who each won £50.00

vouchers, £15.00 Waitrose vouchers and some lovely flowers which were donated by Flowers by Suzanne.